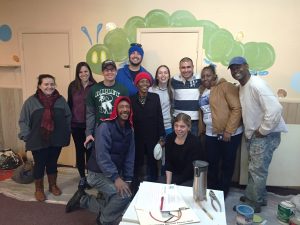 When John Germer started Germer International he knew that he wanted to give his employees the opportunity to volunteer, to get out of the office and make an impact on our community. This year during a meeting about goals everyone voted to use MLK day as a volunteer day and Les Schafer, Senior Executive Recruiter, took the lead in making sure everyone was on board. Les got in touch with a school in West Philadelphia that needed a lot of help and then assigned us each a task to gather supplies.
The school had a space for the kids that hadn't been painted in years and had no decorations. The GI team showed up with 6 gallons of paint – some donated by Sherwin Williams, and some donated by friends – paint brushes, drop clothes and creativity! Not only did we have fun transforming the space and working with the employees of the school, but having time to talk to each other about non-work related topics was really fun too! We heard Alyssa's great singing voice, learned that Greg goes by Gogo, got the details about Faith's new apartment, saw Sam's creativity come to life in drawing the caterpillar on the wall, talked about John & Les's daughters, were humored by Emily's always funny stories, and stayed motivated by Cat turning the project into a competition with the other painters!
After volunteering on MLK day in 2016, GI plans on making this an annual event and we hope to continue to positively impact our local community while building stronger relationships with each other.
Do you want to persuade your boss or employer to implement service days on MLK day? Here are some resources that might help:
• MLK Day of Service – Philadelphia Website
• Article about Volunteering
• How to Plan a Volunteer Day
Before Picture:


After Picture: