Germer International's 3rd Annual 5K
Published by: Catherine Stier – Senior Executive Recruiter & Account Manager at Germer International.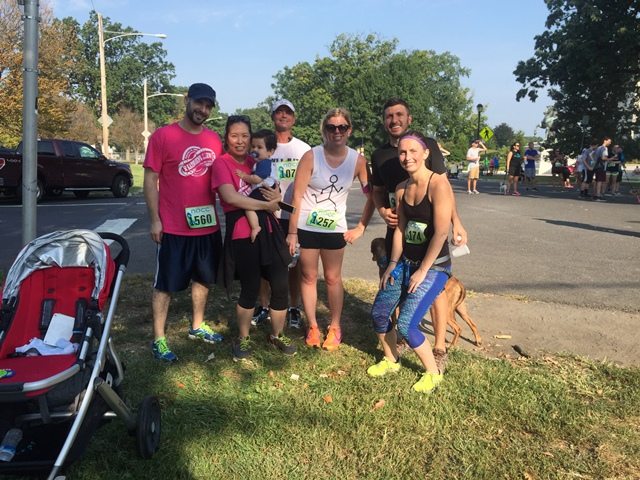 This past weekend, the Germer International team participated in our 3rd Annual 5K at the National Ovarian Cancer Coalition run/walk near the Please Touch Museum in Philadelphia. The NOCC's goal is to educate communities and increase awareness about the symptoms of ovarian cancer. The NOCC also provides information to assist newly-diagnosed patients, hope to Survivors, and support to caregivers. The NOCC is also committed to the advancement of ovarian cancer research.
If you're familiar with the Please Touch Museum area, you are aware that it is a beautiful location for a run; the trail goes through the Japanese Garden, through the shaded trails, and out into a wide open area for plenty of room to celebrate after the run.
This year, our team was a little smaller. John Germer, Flora and her family, Cat and her boyfriend and dog, and Faith all participated. It was Flora's baby's first 5K and Cat's dog, Yak's first 5K and they both did an awesome job. It was about 80 degrees when the run started, so although we all started off looking great, by the end, we really worked up a sweat (as you can see in the pictures)!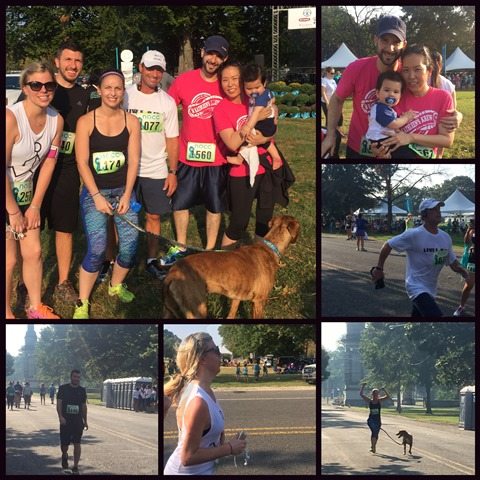 We started this tradition 3 years ago when our colleague Kathleen Gerber was diagnosed with Ovarian cancer. After beating cancer 4 times before, we all had high hopes that Kathleen could beat this one too. At our first race, Kathleen and her sister joined us and were at the finish line as we all ran through in our pink "Kathleen's Krew" shirts. Soon after that race, Kathleen passed away. She was a special woman who brought such brightness to the office – and usually cookies too. We really enjoyed having her around, but doing this race gives us all a chance to think back on our good memories with her and share our memories with our newer colleagues who didn't get the chance to meet Kathleen. Not to mention, it is a great way for us all to focus on our health and energy; that's something we put a big focus on at GI.
Next year we hope to have the whole Germer International crew at the race and make it our best year yet! If you are looking for a 5K to run and a great cause to support, please consider the NOCC!