8 Resume Myths Debunked:
The Truth Revealed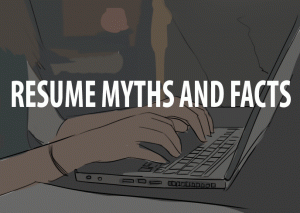 Written By: Sam Rezaeian, Executive Recruiter
---
When it comes to crafting your resume, we're sure you've spent countless hours writing, editing, and tailoring it to perfection before sending it off to potential employers. You're confident that your resume showcases the best of your experience and abilities, because you've done your homework and followed countless resume writing rules – such as confining your resume to one page. However contrary to popular belief, most of these so called "resume rules" do not make for an ideal resume.
As professional recruiters, we have seen almost every type of resume imaginable and believe we can help dispel some of the resume writing myths out there.  By gathering feedback from our clients, and through our own research, we have cultivated a foundational perspective on what companies look for in a resume in today's highly competitive job market.
Here are 8 resume writing myths, and their truths revealed:
Myth: Resumes should be one page
Truth: In most instances, one page just isn't enough. Hiring managers want to see the candidate's full career history and details of their experience – and this usually will not fit on just one page. We're not saying to overdo it, but having 2-4 pages is acceptable, especially when working with a recruiting firm that will help direct the employer where to look on the resume for relevant experience. The only time one page is appropriate is if there is a shorter career history or fewer responsibilities to write about.
Myth: Resumes don't need exact dates
Truth: Hiring managers like to see resumes that include both the months and years candidates worked at each company. This creates transparency, and there are many times when employers want to know how long someone worked at a specific company. For example, if someone wrote 2010 – 2011 on their resume, this could mean any amount of time ranging from a few months to up to 2 years.  If HR or the hiring manager has to do guesswork, they may just pass over that resume.
Myth: A PDF is better than a Microsoft Word Document
Truth: Resumes should not be submitted in PDF format; employers prefer Word. PDF does not always allow hiring managers and recruiters to use some keyword-scanning software which allow them to identify critical information on the resume. There may also be instances where employers don't have a PDF viewer readily available and may hold off on viewing those candidates.
Myth: A few typos or grammatical errors are not a big deal
Truth: We have had countless instances where clients will hold off on a candidate based on typos or grammatical errors. Is this always the case? No, but why chance it? Make sure to triple check resumes and have a friend look over it before sending. Another key detail to consider is to stay consistent in writing tense – whether past or present for each company – this helps avoid any confusion.
Myth: Small, white lies are not a big deal
Truth: Honesty really is the best policy. The truth will prevail one way or another anyhow – so don't embellish or overstate your responsibilities, experiences, or capabilities, no matter how small the lie. Companies have many ways of getting to the heart of things, so it is best to stick with the path of integrity. Plus, if someone is caught in the middle of a fib, they most likely will not get the job.
Myth: Resumes that are general are better
Truth: The more specific and customized a resume is for its target position/company, the better. Candidates may want a general resume they can send out to multiple positions, however a general resume won't get as far as one that is tailored specifically.  For candidates that can perform a variety of functions, we usually recommend they have a few different versions of their resume to work with.
Myth: Resumes must include references
Truth: References do not need to be included on resumes. Although they don't necessarily hurt to be on there, reference checks usually take place towards the final stages of a job offer. In most cases, companies will not be influenced one way or another based on whether a candidate includes references on their resume.
Myth: A good resume will land me the job
Truth: A good resume will help open the door to an interview. The interviewing process is where a candidate can really showcase their experience, responsibilities, achievements, and insights. During interviews, hiring managers and HR may still ask candidates to go over details on their resume – this is an opportunity where the candidate can shine.
Has your resume been held back by any of these myths? This would be a good time to review it and see how it stacks up!