New Year, New Office 
Written by: Allison Flitter, Pharmaceutical Recruiter
---
Do you make a New Year's resolution at the beginning of each year? What do you hope that you can do better this year? This year, Germer International took the new year, new me to a whole new level. After 15 years in our old office on Swede Road, Blue Bell we moved into our new office in January.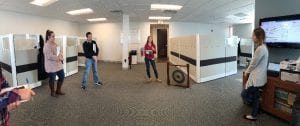 Les Schafer, Senior Manager, Recruiting & Client experience reflects on what this new space means to the team:
"We always loved our jobs and what we do and how we helped people every day. Now we love it even more in our new office.  It's modern looking, the cubicles are sleek and functional with raising and lowering desk tops.  We also have a cool new breakroom with barstool seating so that we don't have to eat at our desks if we don't want to.  We cannot say enough about the office park amenities either, with 2 cafes', walking paths and a gym. I don't know about the rest of the team, but I now am definitely bragging about our new digs to anyone who will listen.  The bottom line is that it is a fun space"
Although it has only been a couple weeks at the new office, I am sure you can tell from Les' quote that we are already feeling the benefits of being in a new space. This new space is offering us many benefits that we did not realize we were missing out on. Our new office complex offers: two onsite cafes, nice outdoor spaces (for when it is warmer outside) and rumor even has it that they have an on-site car wash once a month, oil changes once a month and dry-cleaning pick up.
Besides the new options that the office complex office, our actual space offers a new opportunity to continue our growth as a company. Each employee has their own cube space, but we also have a large open space to have collaborative meetings. Not only are the current employees excited about having our own space, we are excited that we have the space to grow as a company. We brought on 2 new interns and 1 fulltime employee with our new space. It is important to us that we have the ability to grow internally to continue helping as many professionals and clients as possible!