Germer Gives Back, Habitat for Humanity Day of Service 2017
Published By: Allison Flitter – Associate Pharmaceutical Recruiter 
Here at Germer International, we spend every day helping other's find jobs. We also try to spend time in our community giving back to others. Every year the team at Germer decides what organization they would like to work with in the local community. Last year, the team went to West Philadelphia on MLK Day to help with fix up a daycare. This year we decided to go to our local Habitat for Humanity build site and work with the Montgomery County Habitat for Humanity.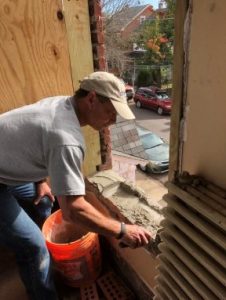 Habitat for Humanity's mission is to "transform lives and our city by building and repairing homes in partnership with families in need." Habitat will help build or rebuild a home for someone in need all over the world. When a family is approved to live in a Habitat home, they are required to put in sweat-equity hours as well as complete financial literacy courses.
The organization aligns with Germer International and how we work. For a family to qualify for a Habitat house there is a lot of teamwork and actual physical work that goes into the house. At Germer, we value teamwork and working to make each other better every day. By giving back with Habitat for Humanity we got to work together outside of our traditional office and continue to learn more about each other. We were excited for the time spent working together as well as working towards a bigger goal.
As everyone began to arrive at the Habitat Build site, we found out that there would actually be two houses that we would be working on. Habitat for Humanity bought two houses close by and is currently fixing them up. To start the day, we got to learn a little bit about the organization and who we would be working with.  The day was going to be focused on a lot of painting and also helping unload different deliveries throughout the day.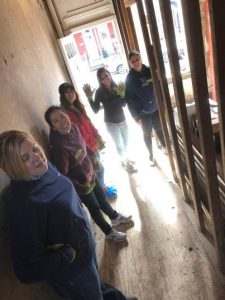 After helping distribute bricks throughout the house for the windows, most of the team headed over to the other house to begin painting the basement. John Germer also hung back to help build put the bricks in the window for the framing, where he was most of the day helping to finish up a big step of the house.
The Habitat team told us that we will be able to follow the progress of the house and even be there when the house is given to the family! They expect the house to be done in the spring and we are hoping to get to see the final product.
We spent a great day working together and getting to know everyone in our company. Overall it was an amazing day giving back with a great organization working with our hands.
What is your favorite way to volunteer?