Video Interviewing Tips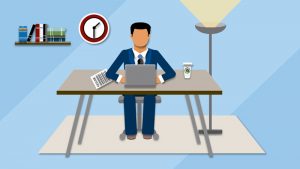 In today's challenging times more and more employers are conducting video interviews in place of in person interviews to fill the positions they have open. You should prepare for the interview the same way you would if you were going onsite and do your homework.
If you have a video interview coming up, here are some tips that might help. But if you have any questions beyond the tips below, please reach out to us!
Test, Test, Test! Make sure you do a test run with a friend or family member. You want to check your internet connection, make sure your video is reliable and you understand how to mute and unmute if needed.
Make sure your computer is at eye level. You might have to elevate it on a box or book, etc.
Keep your computer at an arm distance away.
Do not have anything in the background of your video that could be distracting to the interviewer. You want them to focus on you. If you are on Zoom they allow you to add a fun virtual background. Skype and Microsoft Teams offer a background blur feature if you don't want people to see what is in the background of your video.
Check your lighting. You want to make sure that the interviewer can see you well. You can sit looking at a window, but do not have the window at your back.
Wear earbuds or headphones. You want to make sure you are being heard clearly and you can hear the interviewer clearly. Using the computer speaker can make you sound distant and muted.
Find a quiet place with no distractions from family, friends and pets.
Find a chair that will allow for good posture. (i.e. sitting up straight)
Be sure to look at the camera when talking, not at the computer screen. Looking at the camera will make it seem like you are looking directly at the interviewer( proper eye contact)when answering questions.
Get a phone number in case something goes wrong. If you have a number, you will be able to pick back up where you left off quickly.
Dress professional! This is still an interview, so make sure that you wear something you would have worn if you went onsite to the company. This will also help put you in the right mindset for the interview. Try to wear solid colors as stripes and bold patterns may be distracting on a video.
Do not talk over the person that is interviewing you. Make sure they are done with their question before you answer.
Any interview is about showcasing your experience and best self.  Be confident, be concise and be personable. Good luck!