What it Means to be in a Candidate-Driven Market
Written by: Sarah Yun
"What is a candidate-driven market?" you might ask.
I had a conversation with the President of Germer International, John Germer, to get his insight into what this could mean for the candidate & client experience in 2021.
For one, to be in a candidate-driven market means that job-seekers have multiple opportunities presented to them with more solid options than ever.  This can make it difficult for companies to compete, and it makes it critical for companies to sell themselves better. On the other hand, a client-driven market is where job-seekers do not have as many opportunities, so employers will have more options and less desire to go above and beyond to attract a specific person.
Looking into the future, John sees the candidate-driven market being very different from how it was in previous years. We are looking at the most competitive candidate-demand market that we have seen thus far! Therefore, companies will need to adjust their standards & practices. In John's opinion, the pharmaceutical & biotech companies we work with have continued to be strong communicators with integrity. He also notices that companies are becoming more flexible in regards to requirements around the number of years of experience and the amount of must-haves they have insisted on. In a lot of cases you will
see companies that disregard candidates initially, come back to them later on, realizing the market is a lot thinner than it was in the past. Hiring managers may not understand the candidate pool when they open a job, but they eventually do. John's recommendation to candidates and companies is to "hang in there, it is not over until it's over."
John fee
ls that we have always been in a candidate-demand market. This type of market requires employers to communicate their feedback readily. For those using external recruiters, it should be known that it is a partnership. An open dialogue between the client and recruiter (in terms of providing information on the status of a search, what may work and what does not work, who the interviewers are, etc.), will help recruiters identify the right types of people earlier on. Employers who are more responsive with their feedback are the employers who are filling their openings more quickly and with better talent. The ones that are not, are missing out on these opportunities. John mentions that even with the ongoing pandemic, in the near future we should expect to see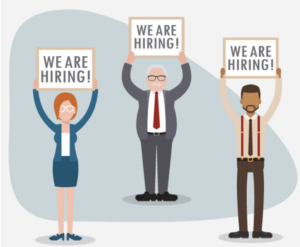 the most candidate-driven market ever.
The upside of this market is that it gives a lot of opportunity to people who were previously disregarded. This market is giving some job-seekers a chance to interview for positions that they would have been seen as "underqualified" for in the past.
John sees the market being this way for the next 5-10 years.
In terms of immigration and giving an opportunity for those who live outside of the US, companies should revisit whether or not they choose to participate in sponsoring H1B Visas. If they decide not to, then they will make it harder on themselves to attract talent. The diverse talents and experiences of people with H1B Visas are critical to the pharmaceutical & biotech industries and we're hoping to see this new administration support those people.
The pandemic has also created a false sense of perspective for some that once the pandemic ends, job seekers will be abundant. The truth is that there are just not enough qualified professionals out there.
John's one tip to give to companies is: "Communication is key!".  We all need to take the time to communicate. Whether that may be using internal or external recruiters, if you are not communicating no one will be able to get the job done.