The Importance of Transparency with a Recruiter
By David Naider
We at Germer International have mutual respect and goals for both our clients and our candidates.  There may be situations where you as a candidate may be hesitant to share personal information and may be situations where you as a client may be holding cards close to the chest as well.  Today we will take a deep dive into the importance of transparency with us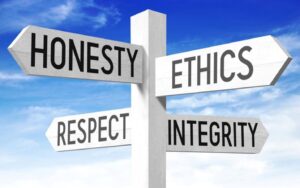 as a recruiting firm and the success that can be achieved through that transparency.
We will start on the side of a candidate.  One thing that may be difficult to discuss would be your job changes and how you ended up where you are today.  We all make mistakes and may have things in our past that we do not want to bring up.  We paint a career progression for all of our candidates and opening up about job changes, whether for personal or professional reasons will not only help us make a presentation on your behalf to a hiring authority, but will also show that you are being transparent up front as well.  We would rather be in a situation where we explain a job loss or job change on the front end, rather than explain on the back end, in the final stages of an offer, as to why you may not have a reference from a given employer.  We like to think of it as "overcoming objections up front" and making a fair and honest presentation.
As a recruiting firm with clients nationwide we also relocate a good majority of our candidates.  When speaking with us, we will ask questions about your home (rental, own, etc.), kids, spouse, and even parents you may be caring for.  We like to paint a picture of what a move would like look for a candidate and obstacles that may be in the way.  We are not in the business of pressuring people to make a geographical move, but rather, ensure a candidate is ready to pack up, and if not, speak to the client regarding their situation.   On the other hand, more transparency about a move, and transparency about potential relocation assistance that may be needed in the beginning of the process, can help us better represent your needs to the client without a big surprises in the offer stages!
As a client, there may be situations where there is uncertainty in your organization or lack of clarity as to the exact candidate you may be looking for.  Some companies may know they are going to be purchased in just a few short years and with that, some risk.  This can help us find candidates who have handled risk in the past, gone through acquisitions, and enjoy environments where they can make a difference in a short time and are ok with not spending the next 20 years of their career with you.  On the flipside, if there are candidates who are looking for a job they can retire with, this information from the client will help us sort through candidates that may want to back out of the process after many hours of time has been wasted on both sides.  When a client is transparent with us, we are transparent with candidates, and thus find well suited individuals for the role.
Lack of clarity in a role can be a difficult search to partner up with a client on.  We understand that organizations are constantly evolving, and that a role may be fluid.  We ask our clients to continually provide feedback as available, so we can tweak our searches to find that right individual.  This transparency also helps us "sell" the role, and even if a bit gray, we can be open and honest to the candidates about why that may be.
To both candidates and clients, future and present, we at Germer look forward to connecting with you soon!